Puzzles, worksheets and activities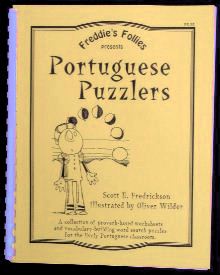 Portuguese Puzzlers
A collection of proverb-based worksheets and vocabulary-building puzzles designed to entertain and instruct. Also included is an index of proverbs appropriate for use in a classroom.
Portuguese Puzzlers #PB-35 $14.95
Posters, bookmarks and booklets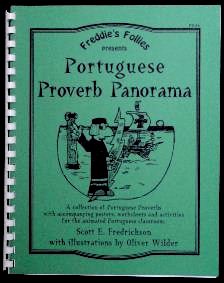 Portuguese Proverb Panorama
A set of black-line masters for posters, quizzes, student booklets, bookmarks and games based on the use of Portuguese proverbs. An index of Portuguese proverbs is also included.
Portuguese Proverb Panorama #PB-36 $14.95
Activities and assessments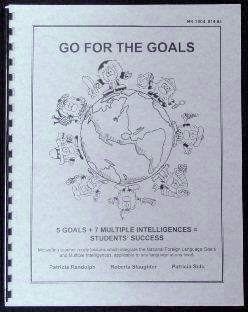 Go for the Goals
Applicable to any language at any level, this book is filled with teacher-ready units which integrate the National Foreign Language Goals and Multiple Intelligences. The nineteen communicative units, which deal with a variety of topics such as travel, love and marriage, fashion, and celebrities, will actively involve your students in learning and using the language. Each unit contains teacher directions, student handouts, suggested activities for each of the intelligences and a variety of assessments. Written by Patricia Randolph, Roberta Slaughter and Patricia Sulu.
Go for the Goals #BK-2004 $14.95
The Wilder Side
A collection of illustrations for use in individual, paired and group activities in the language classroom. Oliver Wilder's drawings are spirited and creative, with themes appropriate for every level. Suggestions for application are provided.
The Wilder Side #BK-20 $14.95 each
Notepads - These delightful little note pads will provide that perfect eye-catcher for your memos. Each of these colorful 60-page pads includes ten different designs of illustrated wisdom, and measures 3¾" × 4¼". Available in a variety of bright and pastel colors. *Specify language: Spanish, French, German, Latin, Portuguese, and English. #NP- "Language" $1.50 each Mix and match! Purchase 5 or more pads in any language or combination @ $1.35 each!
Last updated Wednesday, September 22, 2010 17:29